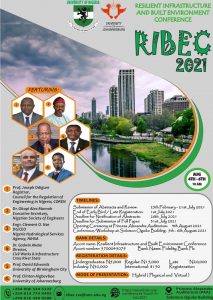 The Organizing Committee of Resilient Infrastructure and Built Environment Conference, RIBEC 2021 wishes to invite you to participate in our forthcoming conference. This maiden international conference is scheduled for 4th-6th August, 2021 in collaboration with the University of Johannesburg's Centre of Excellence & Sustainable Human Settlement and Construction Research Centre.
This Conference aims to provide both traditional and online platform for scholars-practitioners engagement, with the aim of addressing our infrastructural needs to power and sustain the environment we desire. The objective is to harmonize the latest industrial demands with recent research findings in built environment and enable numerous professionals to network and share ideas.
For a robust discussion, we will be grateful if you spread this information among any person that may be interested to participate. Please find the abstracts template on https://www.4shared.com/office/dNzoKgj-iq/Template_for_ab-stract_submissi.html  to enable you uploaded to the EasyChair platform https://easychair.org/conferences/?conf=ribec2021
The processes for submission of abstract are as stated below:
Click the link above or use the links above or in the conference flier (see attached flier), which will take you to the EasyChair platform.
Create an EasyChair account, if you do not have one yet.
Once you have created an account, go back to the conference flier or link above and follow the submission link.
Log in and click on "New Submission".
Fill out the submission form and Click on "Submit".
You can find all the information for registration and submission at the conference flier.
Please feel free to contact us by ribec.cve@unn.edu.ng or any of the telephone numbers attached on the conference flier.
On behalf of the Organising Committee,
Dr. Uzor Onyia
Conference Secretary
+234 805 166 3658